Sisters and Brothers,
Happy Veterans Day. Thank you to ALL who served, for the sacrifices you made to ensure our great country stays safe and free; no words could adequately express the gratitude and appreciation you have earned. Hopefully you are able to enjoy today and feel a sense of pride in the sacrifices you and your military brothers and sisters made for the United States of America and the entire free world.
If you are off duty today and able to spend the day with family, please enjoy your holiday but take a minute and remember why. Thank a veteran. If you have to work today, please work safely and enjoy your day off later, but take a few minutes and think about those who served so that we could live comfortably in the greatest country in the world.
Thank you ALL, and please continue working safely.
Fraternally yours,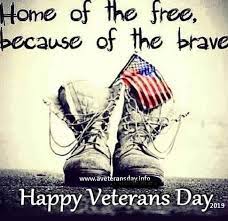 Phil